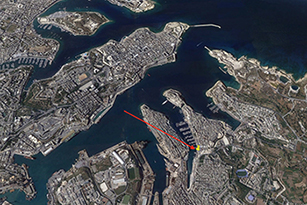 30M BERTH FOR SALE IN VALETTA, MALTA - PRICE REDUCED
MAY 2017
New asking price: 625.000€ instead of 725.000€ VAT paid. The berth Mike 7 is now proposed at a very attractive price!
PURCHASING THE BERTH MIKE 7 OFFERS SERIOUS ADVANTAGES FOR THE BUYER:
- Guarantee to occupy for 23 years Mike 7 which is one of the best 30m berths in Valetta
- Guarantee to pay the equivalent of a fixed rent for 23 years without inflation
- No increase of V.A.T. for 23 years (Malta has one of the lower V.A.T. in Europe)
This is a beautiful and very well protected 30m x 9m berth with lease until 2040, located in Malta's historic capital Valetta, a stunning UNESCO World Heritage site with excellent on site leisure/dining options. Situated only 15min from Malta International Airport with direct flights to most major European cities, the modern and professional Grand Harbour Marina accommodates superyachts up to 140m and offers all the superyacht facilities and technical services.
The marina is an ideal base port, perfectly positioned for cruising in the heart of the Mediterranean.
More info: Click here!