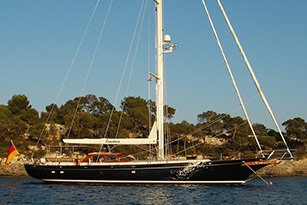 HOLLAND JACHBOUW EMOTION - NEW CENTRAL AGENCY
MARCH 2007
EMOTION is a long classic sloop constructed to the highest standards by the Dutch Shipyard Holland Jachtbouw B.V. along with the expertise of André Hoek as designer.
The yacht received an award from the Superyacht Society for International design as been one of the Five Top 23m – 36m sailing yachts built in the World during 2002.
She is an ideal yacht for large family cruising. An excellent sailing performance and superlative cruising comfort. VAT paid.