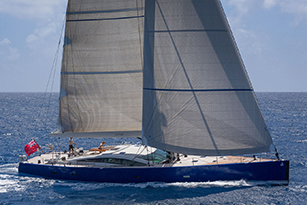 CNB 86 SPIIP - NEW CENTRAL AGENCY
APRIL 2015
Designed by renowned Philippe Briand for offshore sailing, the CNB 86 SPIIP is a striking, elegant and fast sloop, conceived to sail round the world in all comfort and security.
SPIIP features a well-designed, clean and ample deck, a long waterline length and large sail area, a carbon rigging and mast, kevlar sails and a lifting keel which increases her draft from 2 to 4m.
The interior is welcoming and modern, with a bright and very spacious raised saloon, a vast aft owner suite, two guest cabins and a forward part dedicated to the crew.
SPIIP is a perfect «sea runner», offering great pleasure in all types of weather all over the seas of the world.